The 2020 Election: Implications for Cannabis Legalization
The upcoming US election on November 3rd could have a far-reaching impact on the speed and direction at which federal cannabis legalization occurs. The two key outcomes driving which path the industry moves are (i) whether Donald Trump or Joe Biden wins the presidential election and (ii) whether the Democrats win or the Republicans retain control of the Senate. We've laid out expectations for how each of four scenarios are expected to impact the pace of cannabis legalization, in ascending order of favorability. For simplicity and based on current polling data, we assume the Democrats retain control of the House of Representatives in all four scenarios.
Scenario 1: Trump wins presidency, Republicans retain control of the Senate ('Status Quo' Scenario)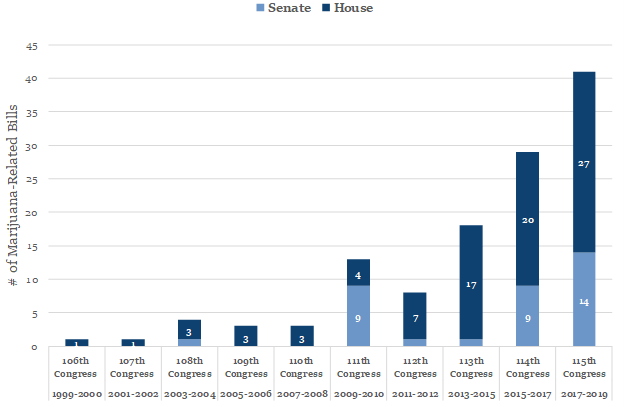 Important to note that even in this less cannabis-friendly regulatory regime, the 'status quo' should still support further cannabis momentum legalization at the state level – consistent with what we've seen over the past four years under a Trump presidency and Republican controlled senate. In November, ballot initiatives could see New Jersey, Arizona, Montana and South Dakota legalize recreational cannabis and Mississippi and South Dakota[1] legalize medical cannabis.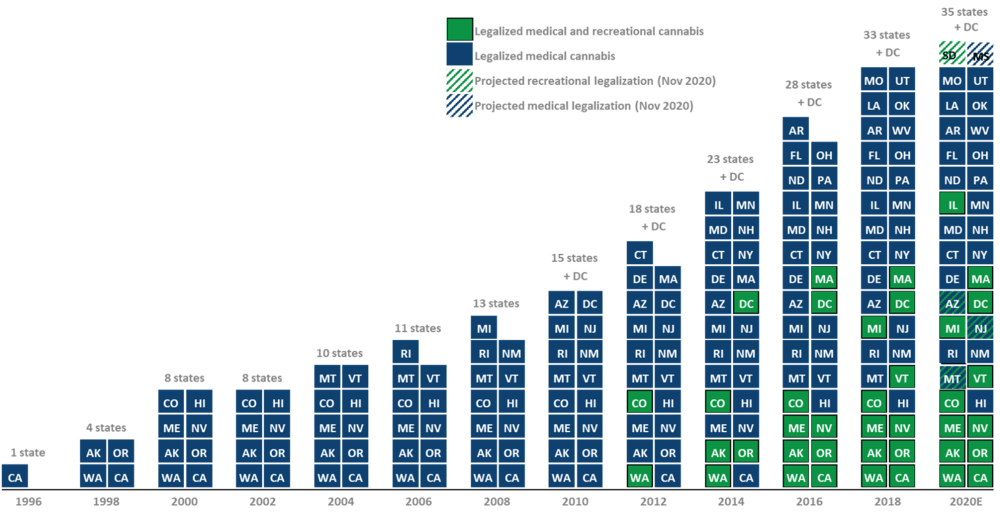 For illustrative purposes only. There is no assurance that medical and/or recreational cannabis will be legalized in additional states or at the federal level.
Scenario 2: Biden wins presidency, Republicans retain control of the Senate
The Senate Majority Leader Mitch McConnell has to-date proven to be one of the most significant roadblocks to cannabis legislation passing at the Federal level, blocking marijuana legislation from reaching the Senate floor. Thus, we believe that the Republicans losing the Senate is a more important change than Biden winning the Presidency as it relates to accelerating Federal legalization.
Although Biden started the Democratic primary contest as one of the least supportive of cannabis legalization, his policy has tempered and become more favorable over time. Key points of the Biden/Harris ticket include:
"Democrats will decriminalize marijuana use and reschedule it through executive action on the federal level. We will support legalization of medical marijuana, and believe states should be able to make their own decisions about recreational use. The Justice Department should not launch federal prosecutions of conduct that is legal at the state level."
One of the most important implications of rescheduling cannabis from a Schedule I substance[2] could be alleviating the burdensome implications of section 280E of the tax code, which prevents cannabis businesses from deducting operating expenses from their tax bill. This has led to exorbitant effective tax rates for cannabis businesses historically. However, if cannabis is just rescheduled to a Schedule II substance[3], tax code 280E would still apply.
Current electoral college projections are as follows: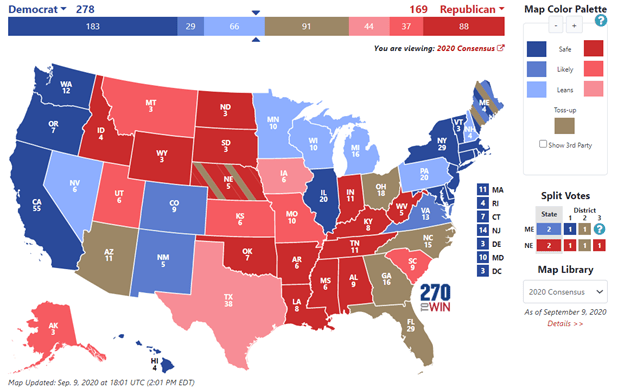 Source: 270 to Win. 2020 Presidential Election Interactive Map. Accessed 13 September 2020: https://www.270towin.com/.
Scenario 3: Trump wins presidency, Democrats win control of the Senate
In November, 35 Senators are up for reelection. Republicans currently hold 53 seats, Democrats hold 45 seats, and Independents hold the final two (both caucus with the Democrats). Of the 35 seats up for reelection, 12 are incumbent Democrats and 23 are incumbent Republicans, with a total of 18 seats being classified as "at-risk" (5 Democrats and 13 Republicans). It's important to note that the Vice President breaks a tie in the event of a split vote in the Senate, making the Presidential election even more integral for the outlook on cannabis legislation passing. A blue Senate could be a major catalyst for federal legalization, as any Democratic Senate leader would likely be much more open to allowing cannabis legislation reaching the Senate floor than Mitch McConnell has been.
Current Senate projections are as follows: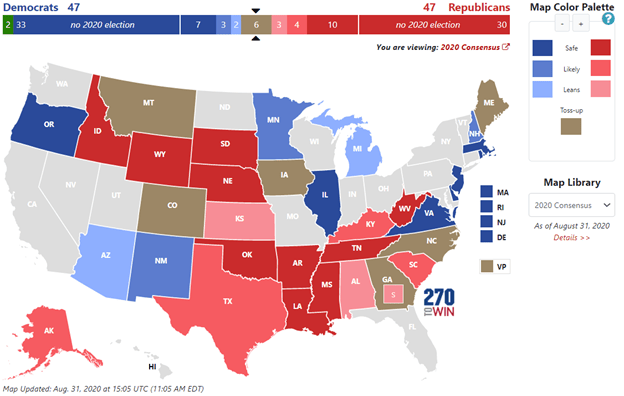 Source: 270 to Win. 2020 Senate Elections: Consensus Forecast. Accessed 13 September 2020: https://www.270towin.com/2020-senate-election/consensus-2020-senate-forecast.
Scenario 4: Biden wins presidency, Democrats win control of the Senate
If the Democrats win both the Senate and the Presidency, federal reform of cannabis could occur much more rapidly than previously anticipated. However, any path towards Federal legalization will likely occur in phases:
1.      Opening access to financial services businesses: passage of legislation like the Secure and Fair Enforcement (SAFE) Banking Act would likely be the first Federal law enacted, which would allow for banks, insurance companies and other financial institutions to work with state-legal cannabis businesses.
2.      Providing state-level autonomy: legislation like the Strengthening the Tenth Amendment Through Entrusting States (STATES) Act would likely be the next step for change. The STATES Act would grant explicit autonomy to states regarding cannabis legalization and would amend the Controlled Substances Act (CSA) of 1970 to exclude cannabis in states that have legalized it, therein also cleaning up the 280E issue.
3.      Opening cannabis to interstate commerce: the final major piece of legislation that could be passed would be legislation like the Marijuana Opportunity, Reinvestment, and Expungement (MORE) Act, which would completely deschedule cannabis from the CSA, allow for interstate commerce and take steps to address the past implications of prohibition through social justice and equity programs. However, interstate commerce could take several years from passage to begin, as states will likely not want to give up any of the economic benefit they receive from their cannabis programs.
Conclusion
We see no downside risk from the November election as it relates to regulatory momentum, as even the 'status quo' scenario would still support state-by-state legalization initiatives. However, there is upside optionality in the event the Democrats win the Presidency and/or control of the Senate, with a change in control of the Senate being the most important. Further, we expect any major cannabis legalization to drive a significant increase in cannabis company valuations, as institutional investors who were previously unable to access the market get involved and retail investors react to favorable developments.
[1] South Dakota will be the first state to vote on recreational and medical marijuana at the same time.
[2] Defined as high potential for abuse with no currently accepted medical use in the US. Other current examples include heroin, LSD and ecstasy.
[3] Defined as high potential for abuse, but also having currently accepted medical use in the US. Other current examples include cocaine oxycodone, fentanyl and morphine.
DISCLAIMERS: This site is not intended to provide any investment, financial, legal, regulatory, accounting, tax or similar advice, and nothing on this site should be construed as a recommendation by Key Investment Partners LLC, its affiliates, or any third party, to acquire or dispose of any investment or security, or to engage in any investment strategy or transaction. An investment in any strategy involves a high degree of risk and there is always the possibility of loss, including the loss of principal. Nothing in this site may be considered as an offer or solicitation to purchase or sell securities or other services.
https://imagecdn.keyinvestmentpartners.com/wp-content/uploads/2020/10/KEY_Logo_Color_600px-web-300x152.png
0
0
Rob
https://imagecdn.keyinvestmentpartners.com/wp-content/uploads/2020/10/KEY_Logo_Color_600px-web-300x152.png
Rob
2020-09-16 00:41:14
2023-05-30 13:57:55
The 2020 Election: Implications for Cannabis Legalization