McConnell Dines with Cannabis Execs after House Judiciary Approves MJ Bill
Could it Be? House Judiciary Approves Legalization Bill While McConnell Dines with Cannabis Execs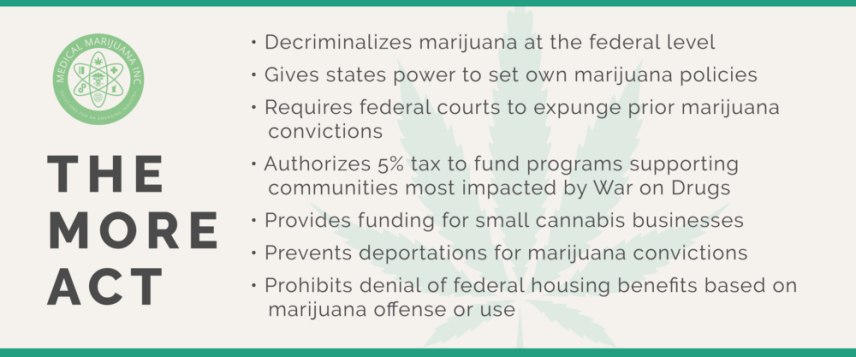 The House Judiciary Commitee approved the Marijuana Opportunity Reinvestment & Expungement Act of 2019 last month, which would deschedule marijuana from the federal government's list of controlled substances and legalize marijuana nationwide. Also known as the MORE act, the bill is now due for a floor vote by the full house, in which it is likely to pass, marking the first time a marijuana bill has ever made it this far in American history.
The bill would deschedule and decriminalize cannabis nationally, which would lift the ban on the sale and use of cannabis unless otherwise prohibited by state law. Even if some states did eventually replace the federal ban with their own, the cannabis economy at large would no longer be encumbered by the prohibition of traditional business activities like banking, payment processing, and others that the vast majority of businesses in this country take for granted, in effect unleashing the free flow of commerce throughout.
If the full house passes the bill as expected, it is then up to Senate Majority Mitch McConnell whether the bill is to be voted on by the senate. Historically an anti-marijuana hard-liner, McConnell is considered the key stakeholder in advancing legalization and has recently shown signs of a willingness to come to the table, literally—just last month, he held a series of private meetings with leading cannabis executives in southern California, including a two-hour luncheon and facilities tour with leading cannabis executives.
If the bill makes it past McConnell, it will have cleared what many consider to be the most difficult test in its path to becoming law; many of McConnell's republican senate colleagues are much more dovish on legalization, citing its overwhelming support among their constituents in recent recent polls. President Trump would likely sign such a bill if given the task, notoriously fond of public opinion on domestic and social issues.
No, the aspect of the bill most likely to turn-off Senate republicans is not legalization of marijuana per se, but rather the partisan stipulations around how the tax revenues will be used and what kinds of criminal justice provisions would be required, adding that if it were solely about legalization and open markets, the committee would have prioritized the STATES act, which achieves a similar result with respect to cannabis industry and capital markets especially, but with fewer strings attached that have the potential to anger certain constituencies.
"The criminalization of marijuana has been a mistake," Chairman Rep. Jerrold Nadler, D-N.Y., said during the markup of the bill. "The racial disparity in marijuana enforcement laws only compounded this mistake with serious consequences, particularly for minority communities."
Nadler did acknowledge that the senate is not likely to take the bill "as-is," allowing for a period of "negotiation" during which the House and Senate can come to terms on an amended version that appeals to both sides.
In any case, this news, which NORML called "the biggest marijuana news of the year," suggests that the question of federal legalization is not one of "if," but one of "when."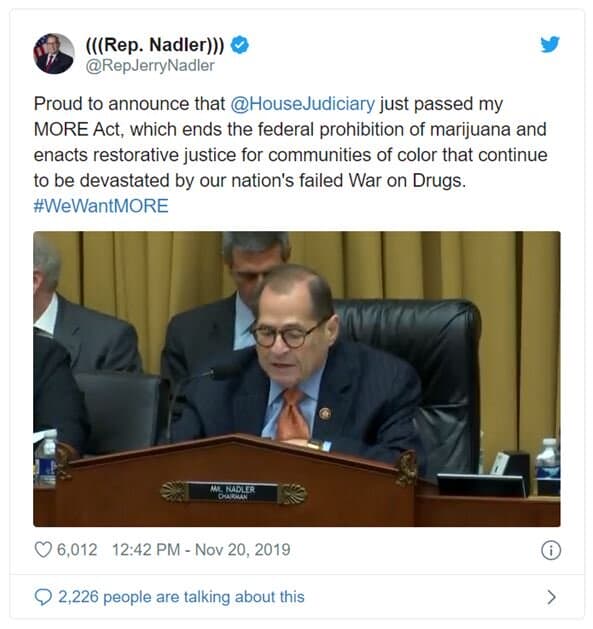 Mitch McConnell is widely considered the most significant roadblock to passing marijuana legalization into federal law insofar as the decision on which bills are heard and which are not is the sole prerogative of the Majority Leader. In addition, McConnell, historically a staunch opponent of legalization, is widely respected among his colleagues on both sides of the aisle, and many republicans can be reluctant to dissent from his views on major issues.
Which is why the reports of the majority leader spending a two-hour private luncheon and a series of facility tours and meetings with cannabis executives in southern California are both intriguing and promising for advocates of legalization.
The late-October luncheon and two-day visit by McConnell signals that the divide between he and the cannabis industry is narrowing. The meeting was kept secret, as McConnell is notorious for playing his cards close to the vest when it comes to his intentions in the Senate, but one attendee who spoke to Marijuana Moment on the condition of anonymity left feeling optimistic,
"We put our best face forward," the attendee said of the 90-minute, 20-person meeting that took place at Newport Beach Country Club, adding that "we were strategic by not forcing him into a corner…he recognizes the issues that need to be resolved." The attendee went on to describe how McConnell mostly listened as industry execs detailed the myriad problems their businesses encounter under current federal law.
McConnell, for his own part, did concede that cannabis is "a complicated issue" and in suggested he understands the challenges cannabis businesses face with banking access in particular.
The very genesis of the luncheon underscores just how non-partisan cannabis politics have become: McConnell attended ostensibly at the behest of republican donors, and indeed Orange County, where Newport Beach is located, has long been a relatively conservative enclave in the deep blue state of California.
The fact that many of these donors were also cannabis executives themselves exemplifies the newest type of American political creature brought about by the cannabis boom: a traditional conservative who recognizes the vast potential of this developing market, and who has perhaps personally warmed to the idea of legal cannabis on the heels of continuing evidence of its benefits (both physiological and economic) just enough to break out his checkbook.
This type of realignment among McConnell's donor base, as well as republicans' at-large, will undoubtedly ramp up pressure on lawmakers to look inward at their own views on cannabis and is precisely the type of political mechanism that our American system is designed to respond to. In any case, all eyes will be on McConnell as he prepares to decide the fate of the MORE act, and this story shows he is at least hearing all sides.
This year has seen the cannabis market continue to grow at the state level, despite inaction from the federal government on the issue. Beginning with California in 1996, 33 states have legalized medical use as of this writing, and 11 of those have lifted the ban on recreational and other use. The trend has accelerated in recent years on the shoulders of poll numbers indicating an unprecedented groundswell in favorable public opinion, and the 2020 elections will surely mark another burst of expansion. Here are the six states most likely to enact marijuana legalization on 2020:
1.  Arizona: Legislators are preparing for a second attempt at legalization after a measure was narrowly defeated in 2016, and historically we've seen second attempts pass, i.e. in both California and Oregon. The Arkansas bill is very similar to the Illinois bill passed in 2019 insofar as cannabis infrastructure already exists to service the medical market—Harvest Health, the largest MSO when measured by number of retail licenses, already has 10 licenses in the state.
2.  Arkansas: In Arkansas, there are three amendments to the state constitution currently in the signature-gathering phase that would legalize cannabis and enact cannabis-related criminal justice reform.
3.  Florida: Florida is in the same situation as Arkansas, having initiated constitutional amendments that would legalize cannabis. Florida has had booming success with its medical market, with companies like Trulieve cannabis, which operates 39 retail stores in the Sunshine State, generating profits on medical demand alone.
4.  Missouri: While public opinion in Missouri is warming, and the state has initiated amendment processes like Florida and Arkansas, it only legalized medical cannabis a year ago, so the timeline on an legislation is likely longer as the industry will need time to stabilize.
5.  New Jersey: Governor Phil Murphy attempted to push through a well-publicized legalization attempt last year, only to have it stall when congress were unable to come to terms on the appropriate tax rate and the expungement of past marijuana offenses. Look for lawmakers to iron out these details and present a revised version in 2020.
South Dakota: Last but not least is South Dakota, which would need two types of government action to fully legalize marijuana. In addition to gathering signatures for an amendment to the state's constitution that would allow for recreational use and cultivation, which is already underway, the state legislature would need to pass measures governing the use of medical cannabis as well
DISCLAIMERS: This site is not intended to provide any investment, financial, legal, regulatory, accounting, tax or similar advice, and nothing on this site should be construed as a recommendation by Key Investment Partners LLC, its affiliates, or any third party, to acquire or dispose of any investment or security, or to engage in any investment strategy or transaction. An investment in any strategy involves a high degree of risk and there is always the possibility of loss, including the loss of principal. Nothing in this site may be considered as an offer or solicitation to purchase or sell securities or other services.
https://imagecdn.keyinvestmentpartners.com/wp-content/uploads/2020/10/KEY_Logo_Color_600px-web-300x152.png
0
0
Rob
https://imagecdn.keyinvestmentpartners.com/wp-content/uploads/2020/10/KEY_Logo_Color_600px-web-300x152.png
Rob
2019-12-12 01:47:00
2023-05-30 13:46:28
McConnell Dines with Cannabis Execs after House Judiciary Approves MJ Bill