The Iron Law of Prohibition

The "Iron Law of Prohibition" states that as the enforcement of prohibited drugs increases, the potency of those drugs increases as well. Basic economic principles support this theory:
1.      Where there is demand, there will be supply. Outlawing a drug has never curtailed the demand for said drug. Unfortunately, forcing the product onto the illicit market ensures the suppliers will generally be gangs, organized crime syndicates, cartels, terrorist groups and others who utilize their profits for nefarious activities.
2.      The greatest cost for drug smugglers is avoidance of detection. As such, black market drug manufacturers are incentivized to produce drugs in more concentrated and powerful forms. These more potent forms are more profitable because:
i.          They require less storage space;
ii.          They can be sold for higher prices; and
iii.          They weigh less in transportation.
This phenomenon played out perfectly during the alcohol Prohibition era, when public demand shifted from beer to liquor. Relative to estimates of spending without prohibition [1], the actual spending on spirits vs. beer increased sharply: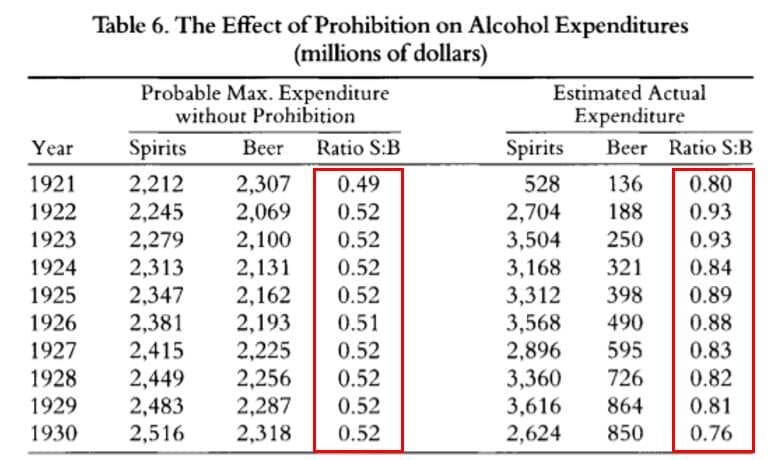 Source: Thornton, Mark (1991). The Economics of Prohibition (PDF). Salt Lake City: University of Utah Press.
Similarly, the narcotics trade in the 20th century shifted from bulky opium to higher potency heroin, in turn driving significantly higher risk of blood-borne disease because of injection by needle, and far greater risk of death from overdose.
The Iron Law may help to explain why the War on Drugs has done almost nothing to curb drug addiction. In fact, the addiction rate has remained steady around 1.3% since 1970 despite skyrocketing costs of over $1.5 trillion[2].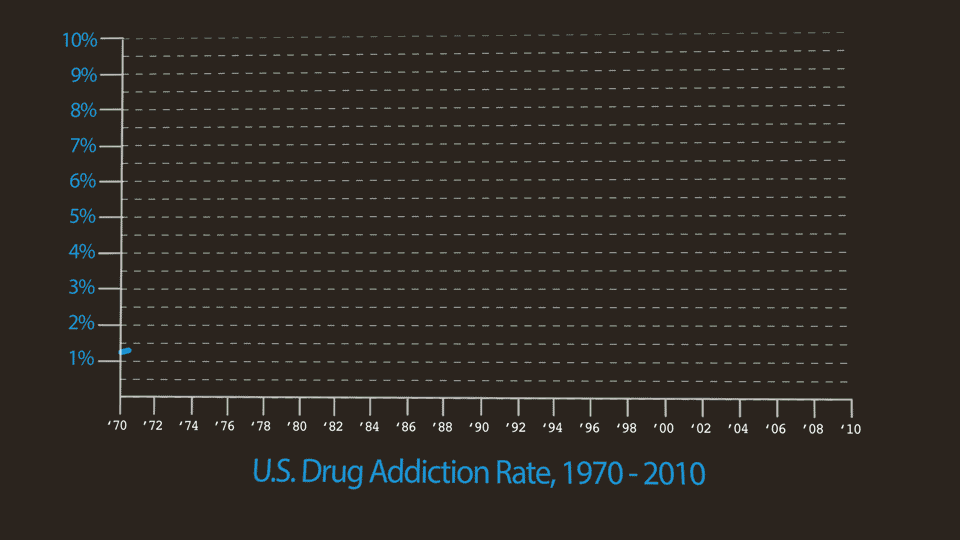 Source: Mike Riggs, "Drug War: Forty Years of Drug War Failure Represented in a Single Chart," Reason, October 10, 2012, https://reason.com/2012/10/11/forty-years-of-drug-war-failure-in-a-sin/ (accessed January 1, 2020).
The cannabis industry demonstrates this same economic lunacy. In Colorado, between legalizing adult-use cannabis in 2014 and June of 2019, the state generated over $1bn in tax revenues from legal sales[3]. Conversely, New Jersey spends over $143mn per year[4] to enforce marijuana possession laws.
Its time regulators took a lesson in economics. Stop feeding organized crime, regulate, test, & control dosage and product quality, and use those tax revenues productively in education, healthcare and other areas of public benefit.
Footnotes:
[1] Costs from the War on Drugs include US federal drug control spending, state level costs, prison costs and lost productivity costs of incarcerated peoples.
[2] Based on spending during the periods proceeding and succeeding alcohol Prohibition.
[3] Eric Rosenbaum, "Colorado Passes $1 Billion in Marijuana State Revenue," CNBC, June 12, 2019, https://reason.com/2012/10/11/forty-years-of-drug-war-failure-in-a-sin/ (accessed January 1, 2020).
[4] "Unequal & Unfair New Jersey's War on Marijuana Users," The American Civil Liberties Union of New Jersey, May 2017, https://www.aclu- nj.org/files/6614/9744/1887/2017_06_14_mj_rpt.pdf (accessed January 1, 2020).
DISCLAIMERS: This site is not intended to provide any investment, financial, legal, regulatory, accounting, tax or similar advice, and nothing on this site should be construed as a recommendation by Key Investment Partners LLC, its affiliates, or any third party, to acquire or dispose of any investment or security, or to engage in any investment strategy or transaction. An investment in any strategy involves a high degree of risk and there is always the possibility of loss, including the loss of principal. Nothing in this site may be considered as an offer or solicitation to purchase or sell securities or other services.
https://imagecdn.keyinvestmentpartners.com/wp-content/uploads/2020/01/smith-1139033_1280.jpg?strip=all&lossy=1&quality=75&ssl=1
719
1280
Rob
https://imagecdn.keyinvestmentpartners.com/wp-content/uploads/2020/10/KEY_Logo_Color_600px-web-300x152.png
Rob
2020-01-07 17:10:14
2021-02-26 15:00:55
The Iron Law of Prohibition