Cannabis Shops Thrive as 'Essential Businesses' in Coronavirus Pandemic
Cannabis Shops Thrive as 'Essential Businesses' in Coronavirus Pandemic
As the spread of the coronavirus continues and anxiety for Americans escalates, operators of cannabis dispensaries have reported that business is booming. Named by several cities as "essential businesses," dispensary owners have reported long lines of customers, similar to what has been seen at grocery stores and pharmacies.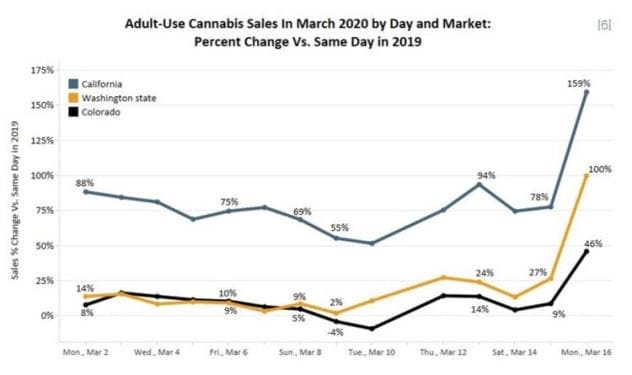 "We've had both lines of cars and lines of people wrapping around our buildings," Steve DeAngelo, co-founder and chairman emeritus of Harborside dispensaries in California, told ABC News. "It's not about getting high, it's about being well."
Officials in some cities, such as San Francisco and Denver, originally did not include dispensaries on the list of essential businesses that can stay open during the crisis however after an uproar from cannabis consumers, the city had a change of heart.
"The Department of Health today clarified that since cannabis has medical use, dispensaries will be allowed to operate as essential businesses just like pharmacies are allowed to do," San Francisco Mayor London Breed announced last Tuesday night.
Many cannabis dispensaries are shifting to online orders for pick-up only to avoid having customers in close contact inside their stores. Legal marijuana dispensaries have also seen sales spikes since Friday in Colorado, Oregon, Alaska, Nevada and Washington – in Washington state, sales jumped 33% last Sunday compared with a week earlier, with purchases of more than $50 increasing from 16% to 21%.
How COVID-19 Will Impact the Private Cannabis Markets
KEY Investment Partners published a blog earlier last week sharing their thoughts on how COVID-19 will impact the private cannabis markets, why they believe recent events could uncover opportunities for savvy investors and how 'winning' companies should act in a downturn based on a study conducted by Bain & Company.
The cannabis-focused investment manager summarized the expected impact of COVID-19 on the private cannabis markets in four key points:
Private cannabis companies who have raised capital recently and have cash on their balance sheets should be in good position to weather the storm.
Investors with dedicated pools of uninvested capital will be able to drive more favorable terms and valuations since their capital is in higher demand.
Vice industries will remain an effective shield from market downturns relative to other asset classes.
An economic slowdown will make cannabis legalization at the federal and state level more attractive as budgets tighten due to decreasing tax revenues.
Given the strength of the cannabis consumer, they expect that cannabis companies who can weather the storm today will continue on their rapid growth trajectories once the pandemic is under control.
NFL to End Marijuana Suspensions in Deal Approved By Team Owners
Under a proposed collective bargaining agreement approved by team owners, NFL players would no longer be subject to game suspensions for testing positive for THC. The new policy was distributed to players on the 20th of February and is pending approval by the NFL Players Association. Additional cannabis-related changes proposed in the agreement include:
Narrowing the testing window of THC from four months to two weeks at the start of training
Reducing the number of players subjected to testing for THC
Increasing the threshold for positive THC metabolite tests from 35 to 150 nanograms
Shortly after the MLB announced that it would remove cannabis from its list of banned substances in December of last year, Dallas Cowboys owner Jerry Jones and former New England Patriots quarterback Tom Brady both stated in interviews that the NFL would likely soon be forced to modernize its approach to marijuana.
 "I think the world is sensitive to the issue regarding marijuana, and it's also an issue contemporarily that we are excited about being in-step with the social and legal scene as it goes forward," Jones said in an on-air interview with Dallas radio station 105.3 The Fan in February.
If ratified, the deal would make the NFL the latest major sports league to loosen cannabis-related restrictions.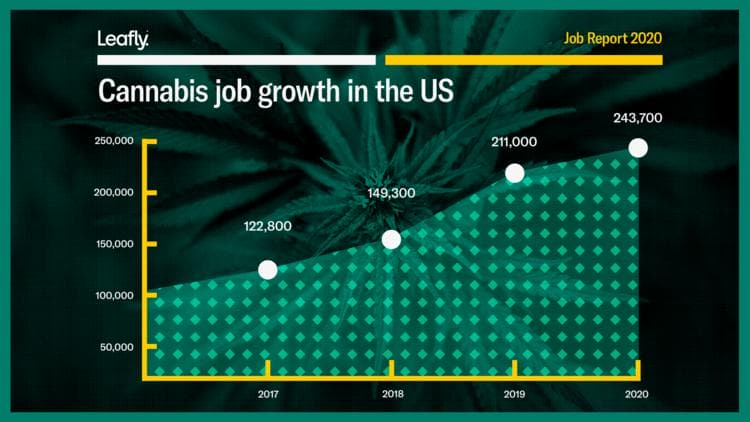 Cannabis is America's Fastest-Growing Sector, Now Supporting 243,700 Full-time Jobs
According to Leafly's 2020 Job Report, the legal cannabis industry saw a 15% YoY increase in employment, adding 33,700 new jobs nationwide. In the same period a year earlier, it saw a massive 62% YoY increase – the cannabis sector continues to be the single greatest job creation engine in the US, maintaining the title as the fastest growing industry in America over the past four years.
"Cannabis has essentially doubled its job count between January of 2017 and January of 2020. There is no other industry that comes close," – Leafly Editor-in-Chief, Bruce Barcott.
This increase is even more remarkable considering some of the events that took place over the past year in cannabis including the national vaping crisis, the large layoffs at industry-leading companies in response to the cannabis public market correction, and significant regulatory changes in CA & MI . The industry's growing pains were more than offset by tremendous job growth in new markets.
In Massachusetts' first year of adult-use, 10,266 jobs were added while Oklahoma's thriving medical market saw sales triple to $350mn, adding 7,300 new jobs. Illinois, alongside Pennsylvania and Ohio, doubled its job growth in 2019.
Additional key takeaways from Leafly's report
Florida's sales increased by 93% in 2019. In 2019 the state changed regulations to allow smokable flower and surpassed the 300,000-medical patient mark (#1 in the country). The sunshine state's $800mn market now employs over 20,000 people.
Legal jobs in MI decreased due to Michigan's new regulatory scheme pushing hundreds of formerly legal dispensaries into illicit status. Legal jobs in CA also decreased due to the sunsetting of California's caregiver law, pushing an estimated 8,000 jobs into illicit status. Despite the job loss, California remains the largest legal cannabis employer with 38,800 jobs.
Colorado, the 2nd largest employer (34,700 jobs), is the largest per-capita cannabis job market. 1 in every 165 Colorado residents works in the cannabis industry.
Colorado and Washington posted 8% job growth six years after their cannabis retail stores opened, indicating that legal stores are still drawing customers away from illicit sellers and steadily attracting more adult consumers from non-traditional demographics.
2020 Outlook
Despite the speed bumps in 2019, Leafly predicts continued double-digit job growth. The report highlighted several drivers:
Illinois' and Michigan's newly online adult-use markets
Missouri's opening of 192 new dispensaries in 2020 is expected triple the state's job growth
CA municipalities that have previously banned cannabis operations plan to lift their bans
While the emergence of COVID-19 will most certainly have a negative effect on the projections in Leafly's report, the cannabis industry continues to grow at a rapid pace and will continue to add jobs even in a slowing global economic environment.
DISCLAIMERS: This site is not intended to provide any investment, financial, legal, regulatory, accounting, tax or similar advice, and nothing on this site should be construed as a recommendation by Key Investment Partners LLC, its affiliates, or any third party, to acquire or dispose of any investment or security, or to engage in any investment strategy or transaction. An investment in any strategy involves a high degree of risk and there is always the possibility of loss, including the loss of principal. Nothing in this site may be considered as an offer or solicitation to purchase or sell securities or other services.
https://imagecdn.keyinvestmentpartners.com/wp-content/uploads/2020/10/KEY_Logo_Color_600px-web-300x152.png
0
0
Rob
https://imagecdn.keyinvestmentpartners.com/wp-content/uploads/2020/10/KEY_Logo_Color_600px-web-300x152.png
Rob
2020-03-23 20:45:15
2023-05-30 13:43:58
Cannabis Shops Thrive as 'Essential Businesses' in Coronavirus Pandemic