Coronavirus & Cannabis – Chaos Breeds Opportunity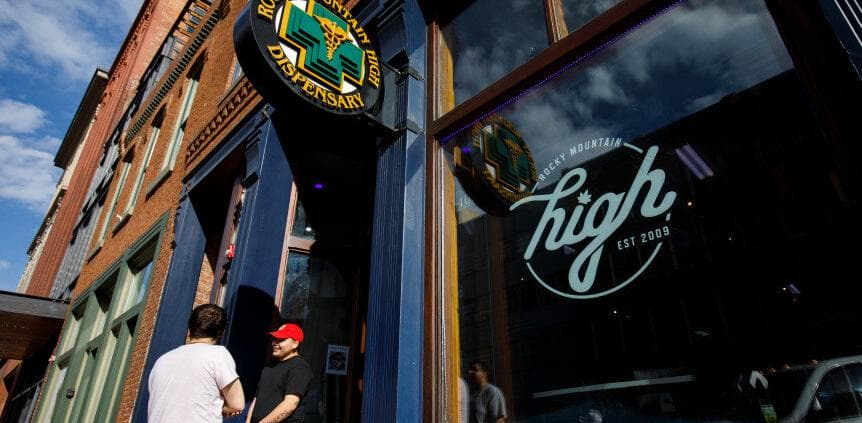 Our lives have dramatically changed over the past few weeks as we come to terms with the reality of the situation in which COVID-19 has placed us. For most Americans, the economy has come to a complete standstill as social distancing and increased 'stay-at-home' measures have become the new normal. Only certain 'essential' businesses remain open across the country as the nation works together to flatten the curve of this pandemic. In this blog post we will explore the impact of COVID-19 on the cannabis industry, how private equity has performed historically in distressed periods and why we believe cannabis investors should look at the current state of the economy opportunistically.
KEY Takeaways:
Cannabis businesses deemed as 'essential' among forced closures and 'stay-at-home' mandates.

Cannabis sales have increased significantly as consumers stock up in preparation for shelter-in-place.

States have relaxed previous restrictions to accommodate better access to cannabis.

There is an argument for the increased pace of legalization at the state level.

Historical data suggest that private equity's outperformance increases during distressed periods:

A broad reset of valuations is taking place today.

Fund managers invest over the long-term at more attractive terms and valuations.

Investors with deployable capital have the advantage of investing at the bottom of a cycle.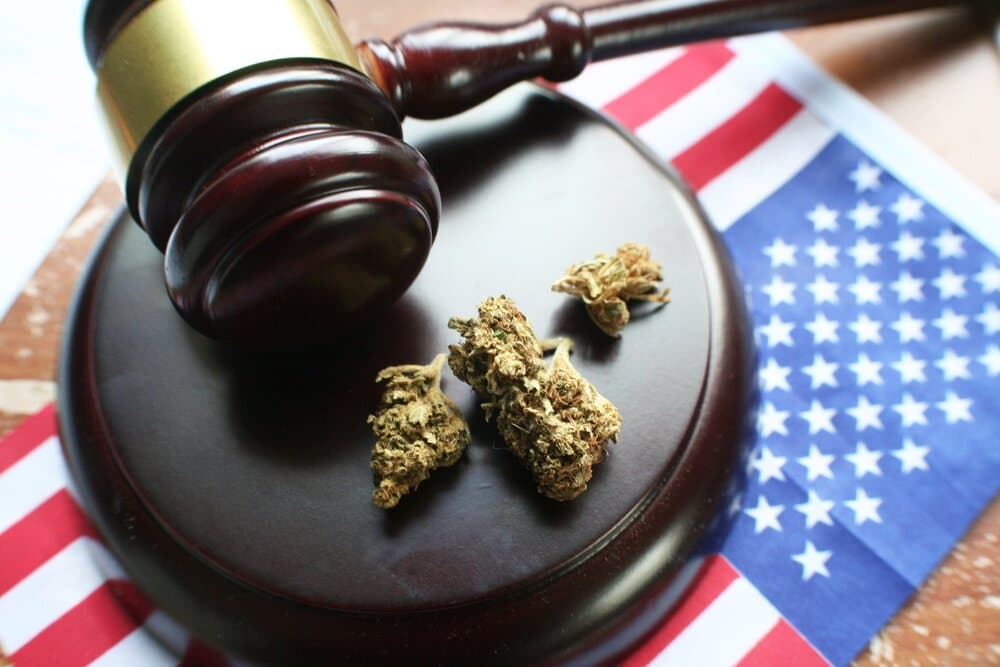 A watershed moment in history as cannabis businesses are deemed 'essential'
Forced closures and stay-at-home measures have brought the US economy to a virtual standstill. As these strict measures are put in place one thing has become very clear – marijuana, just like prescription drugs and groceries, has been deemed an 'essential' business and is making headlines in America.
"It wasn't long ago that anyone growing and selling marijuana faced the risk of being arrested, prosecuted and jailed. But now, in the era of expanding legalization, cannabis providers in many states are held up as vital members of the community who are providing a valuable service on par with picking up prescription drugs at a pharmacy or filling up your car at a gas station."

– Tom Angell, "Coronavirus Crisis Shows Marijuana Is 'Essential' And Mainstream." Forbes. 23 Mar, 2020
According to BDS Analytics, we are in a period of seeing an uptick in sales before the reality of 'shelter-in-place' sets in with health, wellness and boredom driving sales. As mentioned in our last newsletter, the significant run up in sales has some stores reporting over 100% increases compared to same day sales last year. However, as strict measures are enacted and as the consumer 'stocks the pantry', we expect to see a decrease in the number of consumers leaving their homes to pick up cannabis. Although recent data suggest that not only has volume increased, but also the average basket size per consumer (see daily California sample below).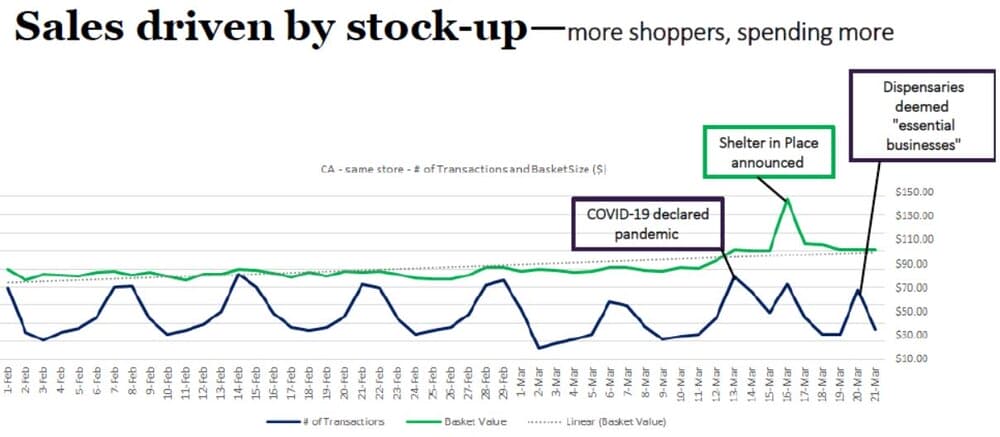 Source: BDS Analytics. "BDSA COVID-19 Impact on Cannabis Webinar." 27 Mar 2020.
We believe that acceptance of marijuana is mainstream and continues to grow – consumption is multi-purposed and multi-faceted across recreational and social use and/or for health and medical reasons (with significant overlap).

Source: BDS Analytics. "BDSA COVID-19 Impact on Cannabis Webinar." 27 Mar 2020.
Consumers are likely to stick to what they know
As 'shelter-in-place' takes hold, we don't expect for the consumer to explore far beyond what is familiar. In other words, consumers will likely stick to what they know, limiting cross-category exploration or new spend into unknown categories. This is due to a number of factors including limited information, education and recommendations from friends and budtenders alike. In tough times, a sense of familiarity can bring peace of mind. We expect the strongest brands in the industry today to outperform those with less presence and loyalty – a changing dynamic of the nascent and fragmented CPG space within cannabis (where price, convenience, and recommendation typically play a large role).
States are adopting new measures to accommodate access to cannabis
Many states are expanding the methods in which cannabis businesses are allowed to operate in order to maintain access to marijuana during this pandemic (click here for a list of measures by state).
Regulators are directing cannabis businesses to implement social distancing measures, limiting the number of customers who can enter a retail location at any given time in addition to providing guidance around physical space requirements for those standing in line. Certain states such as Colorado are, for the first time, allowing doctors to issue medical cannabis recommendations via telemedicine and for businesses to allow for curbside pickup services.
We are also seeing a strong uptick in delivery services and the easing of some restrictions previously in place [1]. At KEY we've always been bullish on cannabis delivery, but have been cautious with timing and acceptance. It is our view now that these new measures could signal a broader policy shift that will remain even after this crisis.
The economic damage from coronavirus could accelerate US cannabis legalization
U.S. cities and states will face a significant loss in tax revenue from the loss in business activity caused from the coronavirus pandemic. We believe this could be a catalyst that pushes states to legalize cannabis as a means to make up for the lost revenue. States like Colorado are generating over $300 million a year in tax revenue from the sales of recreational and medical marijuana and other states are taking notice.
On the same note, we believe that cannabis legalization should not be taken lightly and must be done prudently. Luckily many states have already legalized some form of medical or recreational cannabis (see current state of the cannabis markets below).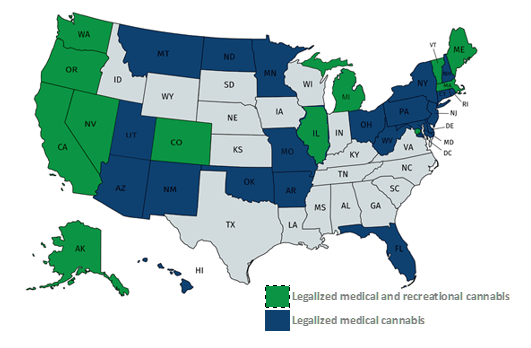 Source: KEY Investment Partners. January 1, 2020.
Since many states have already legalized medical cannabis, they already have strong legislation and proper infrastructure in place (grows, testing labs, dispensaries, etc.). Naturally, many of these states are also considering the legalization of adult-use recreational cannabis. New York, New Jersey and Connecticut for example have been on the edge of legalizing recreational cannabis for some time now and it was predicted prior to COVID-19 that they would potentially pass the legislation this year.
"New York, the epicenter of COVID-19 cases in the U.S., might see a revenue drop of $4 billion to $7 billion compared to what it was expecting, according to the state comptroller. With a budget of $87.9 billion, that's significant."

"If Colorado can raise +$300 million from recreational and medical marijuana sales in a year, New York can certainly earn over $1 billion as long as the state taxes and regulates adult-use sales reasonably," said Rabe, who noted that Colorado's approach has yielded better results than California, which has missed revenue projections."

– Ethan Wolff-Mann, "Coronavirus could accelerate US cannabis legalization." Yahoo Finance. 26 March, 2020
We believe that this significant loss in tax revenue could prove to be the extra push that some state legislatures need to finally legalize cannabis. It's important to also point out that no state considering legalization, or further legalization, would be starting from scratch when it comes to drafting legislation. New states will have the added benefit of looking at a legislative blueprint, such as Colorado's, where legalization has been implemented successfully [2].
What does this all mean for cannabis investors?
"In the midst of chaos, there is also opportunity"

– Sun Tzu

The Art of War
Across the board many leaders, economists and investors alike believe that the economic impact the virus will have on the US is likely to lead to some tough economic times [3]. History has shown us that in any market disruption, panic-induced decision making rarely benefits investors and that huge wealth is truly created after market downturns.
"There's going to be a lot of bad news in the next three to four months," said David Donabedian, chief investment officer of CIBC Private Wealth Management. "It will be pretty ugly. It is sure going to feel like a recession for a while." [3]
Public market volatility is off the charts today and many investors are seeking liquidity. It is our job as private markets investment managers to keep cool heads in the face of uncertainty, analyze situations objectively and make decisions that are in the best interests of our clients over the long-term.
As discussed in our last blog post COVID-19 and Cannabis, and as outlined above, we believe that cannabis investors today should look at the current state of the financial markets opportunistically.
Investing at the bottom of a market cycle can lead to outperformance
Assets across the globe are experiencing a revaluation as the pandemic creates turmoil in the markets – while cannabis is resilient in comparison to most other asset classes, it still cannot hide from this broader trend. We know that timing can impact private equity fund performance and that funds of a certain vintage (the year in which a fund begins deploying capital) may benefit from investing in a low-valuation environment [4].
We argued in late 2018 and early 2019 that valuations in the cannabis markets were too high, namely in the public markets (KEY Blog: What Investors Can Learn From The Dot-Com Boom). Last year we saw cannabis public market valuations come back down to reality and when coupled with the current crisis, we can expect for a broad revaluation in cannabis deals as well (which we are already starting to see in our pipeline).
The bottom line for investors – history tells us that those who have dry powder (the amount of capital a firm has available to deploy) in this type of environment are in a strong negotiating position and tend to have their 'pick of the litter' when comparing investments side by side.
Vintage year matters
Deploying capital into the right vintage year can have a significant positive impact on the performance of a private equity fund. Macroeconomic conditions, asset prices, capital markets issues and other trends can significantly impact the success of a strategy at a specified point in time. We also see that private equity and venture capital firms become more conservative during recessions – they focus on identifying teams who have track records of success and show the ability to adapt when cash is tight. They also spend more time identifying businesses with a clear path to profitability as opposed to businesses with lofty goals far into the future [5].
We believe that the tailwinds of the cannabis industry, coupled with its recession resiliency and today's reset in valuations will mark an excellent entry point for investors.
"As concerns rise over an eventual downturn, however, it's natural for investors to ask how private equity will perform in a recession. Significant historical data shows that private equity's outperformance actually increases during distressed periods, a logical outcome given the long-term nature of the asset class. For PE firms, a downturn represents opportunity. They can deploy capital at more attractive terms and make bold, calculated moves without being hamstrung by the short-termism that afflicts so many public companies.

– Veronis, Nick and Esipovich, Tatiana. "Worried About a Downturn? Consider Private Equity." Financial Advisor. 26 November 2019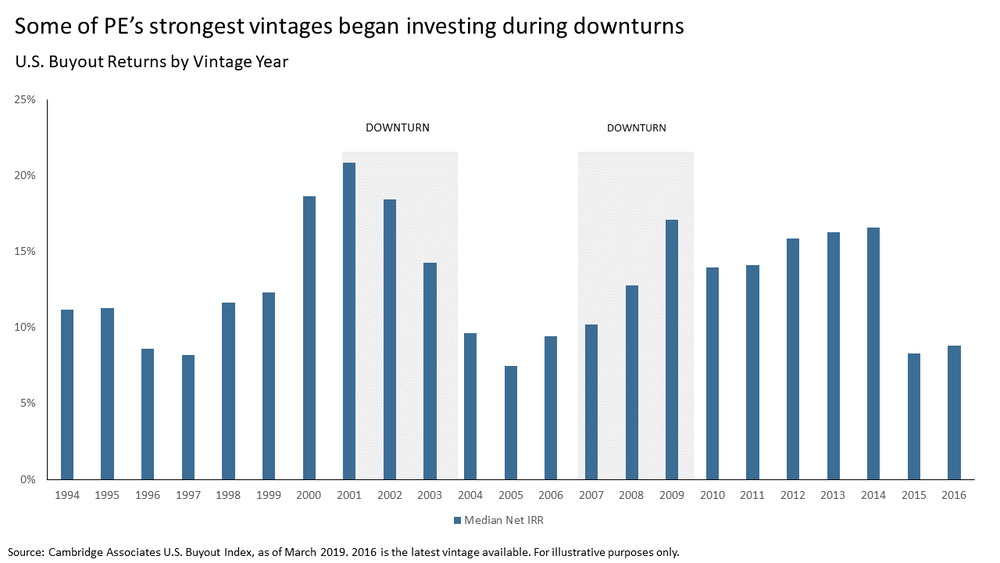 A report by Cliffwater examined private equity investment programs over a 16-year period ending June 30, 2017 (encompassing two bear markets and two bull markets). During the period, private equity outperformed public equities by 440 basis points. The strong relative returns were even more pronounced during bear markets versus in years of economic growth. When the broader economy was stronger, private equity outperformed by an average of 290 basis points; however, during weaker economic times, this increased to 660 basis points [6].
The PitchBook chart below shows how VC valuations have changed over the years – take note how many flat and down rounds existed right after the GFC in 2009. We would expect for a similar environment to take shape (A down round refers to a private company offering additional shares for sale at a lower price than had been sold for in the previous financing round).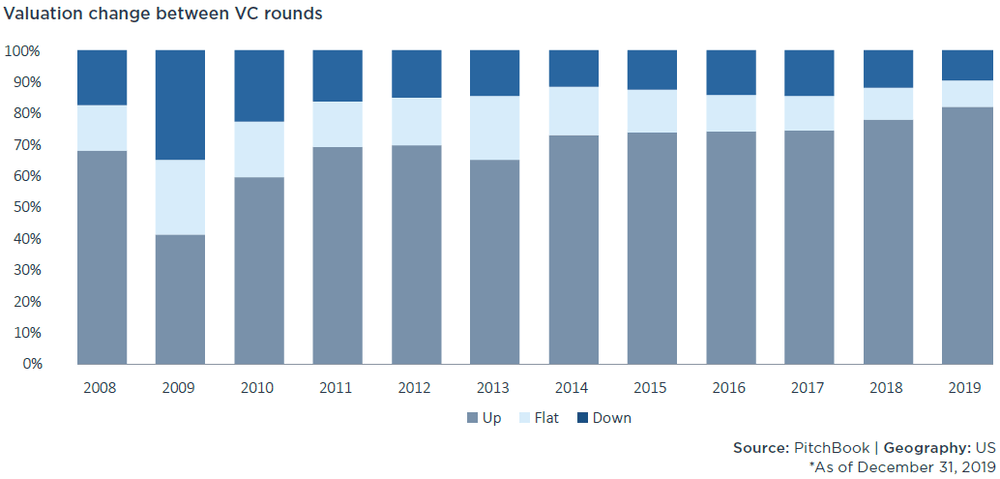 Why does private equity outperform in bear markets?
Private equity firms invest over the long-term and private equity managers are known for taking a more hands-on approach to managing their portfolio companies. In addition, the information advantage a private equity firm has over a public markets investor is substantial. This in turn enables PE firms to pivot their approach during downturns and to help their portfolio companies weather storms. If needed they also have dry powder to re-invest into their portfolio companies if necessary.
Lastly, instead of slowing down investment activity, private equity with capital to deploy can go on the offense. Instead of treating a contraction as a time to pull back, a well-positioned player should use this time to opportunistically find great investments with better terms, valuations and strong leadership.
Several factors make cannabis a compelling investment theme today:
Cannabis remains one of the fastest growing industries in America

Cannabis has been declared 'essential' in nearly all of the legal states

The cannabis industry is likely to show more resilience to a recession when compared to other industries

Potential increase in the rate that states legalize cannabis in an effort to make up for lost tax revenues

The industry has been and will continue to be capital constrained, enabling investors to drive better terms and valuations

Prior to valuations coming down, a lot of 'smart money' had interest but had yet to make an investment into the space. We believe this reset in asset prices could signal a turning point and mark an attractive entry into cannabis
KEY Investment Partners stands with you
As we weather the storm the pandemic has caused we are beginning to see a sense of optimism emerge. As we adapt to this new normal, we also have time to reflect on ourselves and how we will perceive the world going forward. At KEY we will continue to focus on finding the highest quality cannabis companies, backed by exceptional management teams who are ready and able to help this industry grow into its next natural phase of maturation. We believe we will look back at this point in time as a once-in-a-lifetime opportunity and entry point as valuations are reset and the next wave of successful cannabis businesses emerge from the crisis.
"If you're going through hell, keep going"

– Winston Churchill
As a nation and as a world we have overcome great obstacles in the past and we are optimistic that we will get through these challenging times together and will emerge even stronger than before. Through total defiance of failure, and a fighting spirit, we too will never surrender and we too will get past this tough point in history.
We wish everyone and their families safety, good health and a sense of optimism as we push through these times together!
Sources
[1] Angell, Tom. "Coronavirus Crisis Shows Marijuana Is 'Essential' And Mainstream." Forbes. 23 March, 2020
[2] Wolff-Mann, Ethan. "Coronavirus could accelerate US cannabis legalization." Yahoo Finance. 26 March, 2020
[3] Bartash, Jeffry. "The Economy Is in for Tough Times, but Here's a Roadmap for Recovery from the Coronavirus." MarketWatch. 14 March 2020
[4] Shah, Kunal and Esipovich, Tatiana. "Always be Allocating." iCapital Network. 02 October, 2019
[5] Keeley, Colin. "What Happens to Startups & Early-Stage Venture Capital in a Recession." Colin Keeley. 08 November 2019
[6] Veronis, Nick and Esipovich, Tatiana. "Worried About a Downturn? Consider Private Equity." Financial Advisor. 26 November 2019
DISCLAIMERS: This site is not intended to provide any investment, financial, legal, regulatory, accounting, tax or similar advice, and nothing on this site should be construed as a recommendation by Key Investment Partners LLC, its affiliates, or any third party, to acquire or dispose of any investment or security, or to engage in any investment strategy or transaction. An investment in any strategy involves a high degree of risk and there is always the possibility of loss, including the loss of principal. Nothing in this site may be considered as an offer or solicitation to purchase or sell securities or other services.
https://imagecdn.keyinvestmentpartners.com/wp-content/uploads/2020/03/Dispensary_1.jpg?strip=all&lossy=1&quality=75&ssl=1
574
862
Rob
https://imagecdn.keyinvestmentpartners.com/wp-content/uploads/2020/10/KEY_Logo_Color_600px-web-300x152.png
Rob
2020-03-31 16:30:00
2020-10-15 21:39:49
Coronavirus & Cannabis – Chaos Breeds Opportunity