Cuomo Vows to Legalize Marijuana in 2020
Governor Cuomo at his 2020 State of the State address last month vowed to legalize Marijuana in New York – citing the effort as a long overdue criminal justice reform. Quickly moving forward with his promise, Cuomo introduced new cannabis legislation as a part of his 2020 budget proposal.
Beyond mending the scarred communities affected by the war on drugs, Cuomo's proposal looks to alleviate New York's largest budget crisis ($6bn) in a decade. A legalized marijuana program could bring in $300mn a year in tax revenue, and billions of dollars more in economic activity when fully implemented.
"For decades, communities of color were disproportionately affected by the unequal enforcement of marijuana laws. Let's legalize adult use of marijuana," – Gov. Cuomo.
Despite Cuomo's outward emphasis on social equity, noticeably absent in his bill are specific guidelines for spending amounts for disadvantaged communities hit hardest by biased marijuana arrests. A stalemate over this exact issue derailed a legalization push in 2019.
We will see if lawmakers come to an agreement this time as a Sienna College Poll published in late January revealed New York public acceptance has already arrived – people favor adult-use legalization by a margin of 58% to 38%.
New York Neighbors Coverage:
·    New Jersey's outlook appears to be on pace with New York as lawmakers have recently placed legalization on the 2020 ballot.
·    Pennsylvania looks to be a year behind — Democratic state senator Daylin Leach, who introduced the "gold standard" bill to allow for adult use, said he anticipates adult use coming into play by spring 2021.
·    Rhode Island's governor is pitching an unconventional recreational marijuana plan to keep pace with its East coast neighbors.
"The federal government failed Americans with opioids, and we cannot allow that to happen with cannabinoids," said Cuomo in a briefing book released with the governor's State of the State address.
According to a recent paper published in the Journal Health of Economics Cuomo's concern of a marijuana crisis akin to opioids is unfounded as the researchers of the study suggests "cannabis laws could be a useful tool in combatting the prescription opioid epidemic ".
The study found recreational cannabis in the U.S. was tied with an 11.8% lower rate of opioids prescriptions each day, and 4.2% for medical marijuana. Both types of law appeared to cut down the total number of patients receiving opioids, the total days opioids were supplied, and the likelihood of a healthcare provider prescribing the painkillers.
The research comes amid the opioid overdose epidemic in the U.S., which kills 130 Americans every day according to the U.S. Centers for Disease Control and Prevention. The  Recreational weed laws make it easier for patients to access a much safer alternative (zero  historical overdose cases) (https://www.drugwarfacts.org/chapter/causes_of_death) to treat appropriate conditions.
"Policies that reduce opioid prescriptions without leading individuals to substitute more dangerous drugs may be preferable to policies that simply restrict opioid prescriptions." The researchers suggest cannabis could be a safe tool to reduce opioid usage whilst mitigating the risk of users shifting over to highly dangerous alternatives (ex. heroin).
The authors looked at data on over 1.5 billion individual opioid prescriptions between 2011 and 2018, representing around 90 percent of all of this type of drug given out over the time period.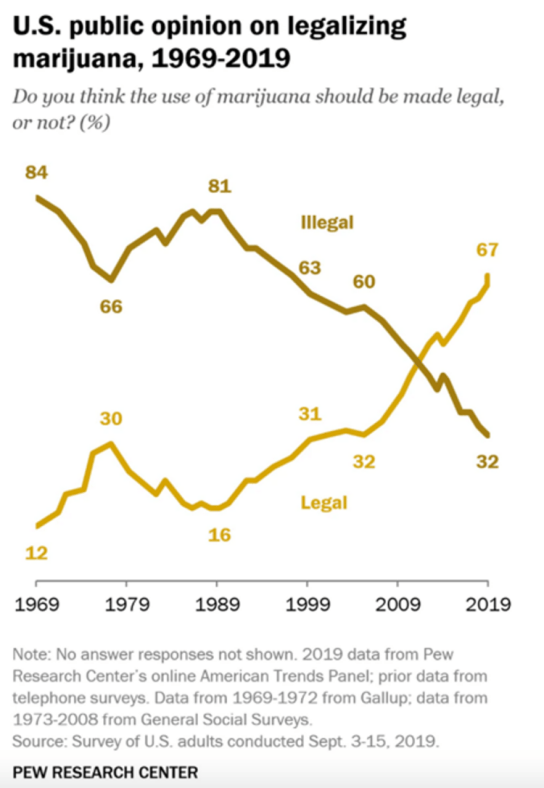 The latest results of a PEW Research survey, conducted Sept 3-15, show support for legalizing marijuana at 67%, rising over 30% from 2005 – 2019. Around nine-in-ten Americans favor legalization for recreational or medical purposes. In other words, just one in ten people agree with the nations federal policy on cannabis.
PEW's survey results show interesting trends when broken down by various demographics. Among the findings:
Politics:
·    Nearly eight-in-ten Democrats and Democratic-leaning independents (78%) say marijuana use should be legal.
·    Republicans and Republican leaners are less supportive, with 55% in favor of legalization and 44% opposed.
Young Americans:
·    Majorities of Millennials (those born between 1981 and 1997), Generation X (born between 1965 and 1980) and Baby Boomers (born between 1946 and 1964) say the use of marijuana should be legal.
Members of the Silent Generation (born between 1928 and 1945) continue to be the least supportive of legalization: Only 35% favor legalizing marijuana, while 64% are opposed.
Sanders stressed that he would end prohibition in a way that would help communities which have been harmed by the drug war's enforcement.
While the president does have the authority under the Controlled Substances Act to reclassify cannabis, the process would still involve steps from both the attorney general and the health and human services secretary – both of which would not likely be working in the Sanders camp on the first day.
While in 2020 Sanders has issued one of the boldest cannabis-focused plans in the field—previously pledging to accomplish federal legalization within 100 days—he hasn't gone as far as some rival candidates have when it comes to ending the criminalization of other drugs.
DISCLAIMERS: This site is not intended to provide any investment, financial, legal, regulatory, accounting, tax or similar advice, and nothing on this site should be construed as a recommendation by Key Investment Partners LLC, its affiliates, or any third party, to acquire or dispose of any investment or security, or to engage in any investment strategy or transaction. An investment in any strategy involves a high degree of risk and there is always the possibility of loss, including the loss of principal. Nothing in this site may be considered as an offer or solicitation to purchase or sell securities or other services.
https://imagecdn.keyinvestmentpartners.com/wp-content/uploads/2020/10/KEY_Logo_Color_600px-web-300x152.png
0
0
Rob
https://imagecdn.keyinvestmentpartners.com/wp-content/uploads/2020/10/KEY_Logo_Color_600px-web-300x152.png
Rob
2020-02-06 22:20:57
2023-05-30 13:45:42
Cuomo Vows to Legalize Marijuana in 2020