Newsletter – KEY Investment Partners Announcements Plus, The Latest On Legalization
Open Book Extracts Raises $11.5M Series B Funding led by KEY Investment Partners and Norte Capital

As we head into the summer months, we are excited to announce a new addition to the Key Investment Partners' portfolio. Founded in 2019, Steady State, LLC is comprised of two sub-entities, Open Book Extracts (OBX) and Steady State Brands. Open Book Extracts specializes in the extraction, the molecular separation and isolation of minor cannabinoids derived from the hemp plant. Filling an important niche in the supply chain, OBX aims to service clients with a full product offering of cannabinoid isolate ingredients, product formulations and branded consumer packaged goods. Steady State Brands serves as OBX's in house brand which sells their proprietary formulated products direct to consumers. We look forward to supporting their future growth!
A New White Paper from KEY Investment Partners:
Why do bubbles burst in emerging sectors like crypto, cannabis and psychedelics?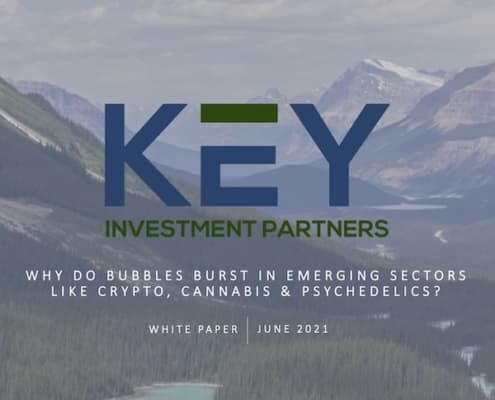 New technological innovations and consumer product categories often demonstrate massive growth potential. These technologies (for example, cryptocurrencies, virtual reality and artificial intelligence) and product categories (such as cannabis, psychedelic therapeutics and alternative proteins) in turn attract massive investor demand.
However, there is almost always a disconnect between consumer acceptance of these technologies/products and the capital markets performance of these emerging sectors. What drives this dislocation? Why do investors overvalue emerging businesses at the beginning of cycles and undervalue them later on?
In this white paper, KEY Investment Partners discusses the boom-and-bust cycles of emerging sectors. KEY highlights the cryptocurrency, cannabis and psychedelics industries as relevant case studies.
Amazon Now Supports Federal Cannabis Legalization
In early June, Dave Clark, head of Amazon's global consumer division, wrote that Amazon's view on cannabis has evolved, citing the 17 states that have legalized adult recreational use and the 30 states that allow for some form of medical cannabis. Additionally, Clark wrote "We will no longer include marijuana in our comprehensive drug screening program for any positions not regulated by the Department of Transportation and will instead treat it the same as alcohol use."
Furthermore, Amazon announced that their public policy team will be "actively supporting" the Marijuana Opportunity Reinvestment and Expungement Act (MORE Act) of 2021. The MORE Act was passed by the House last year and would legalize cannabis federally by removing cannabis from the Controlled Substances Act. The MORE Act would also expunge criminal marijuana records and invest in communities impacted by marijuana prohibition.
Clark ended his post with an optimistic statement, "We hope that other employers will join us, and that policymakers will act swiftly to pass this law."
House Reintroduces Bill to Decriminalize Cannabis, Create Social Equity Programs
After the House voted last year to federally decriminalize cannabis, congressional leaders reintroduced a bill Friday that would strike marijuana from the list of controlled substances and invest in communities disproportionately affected by the drug war.
The Marijuana Opportunity Reinvestment and Expungement Act of 2021, the MORE Act, would eliminate criminal penalties, expunge criminal records, and create social equity programs that are focused on repairing damage to individuals and communities impacted by decades of prohibition. The revised bill includes the removal of language that would have denied federal permits to applicants with felony cannabis convictions. The MORE Act would set a 5 percent tax on cannabis retail sales that would increase to 8 percent over three years.
"The whole intention and vision behind this bill is that it would repair past harms of drug prohibition," said Maritza Perez, national affairs director at the Drug Policy Alliance, a nonprofit working to reform drug laws. "We're hoping that another successful House vote would continue to pile on momentum."
DISCLAIMERS: This site is not intended to provide any investment, financial, legal, regulatory, accounting, tax or similar advice, and nothing on this site should be construed as a recommendation by Key Investment Partners LLC, its affiliates, or any third party, to acquire or dispose of any investment or security, or to engage in any investment strategy or transaction. An investment in any strategy involves a high degree of risk and there is always the possibility of loss, including the loss of principal. Nothing in this site may be considered as an offer or solicitation to purchase or sell securities or other services.
https://imagecdn.keyinvestmentpartners.com/wp-content/uploads/2020/10/KEY_Logo_Color_600px-web-300x152.png
0
0
Key Investment Partners
https://imagecdn.keyinvestmentpartners.com/wp-content/uploads/2020/10/KEY_Logo_Color_600px-web-300x152.png
Key Investment Partners
2021-06-07 15:34:24
2023-05-30 13:39:46
Newsletter – KEY Investment Partners Announcements Plus, The Latest On Legalization