High Times in the Heartland: Marijuana Madness Sweeps Across Midwestern Legislatures
Should Marijuana be Made Legal? (% yes, by region)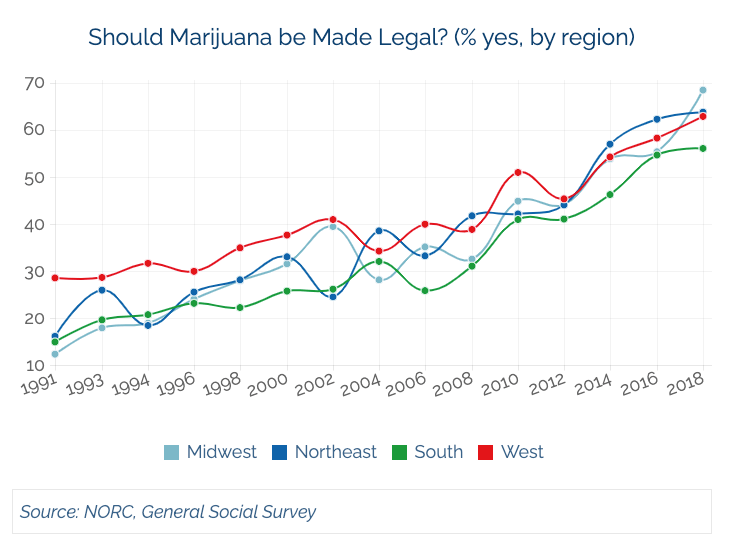 Source: NORC, General Social Survey
The legalization of marijuana for adult use is likely to be one of the first issues discussed by Illinois lawmakers after their two-week spring recess ended on Tuesday. The anticipated $170 million revenue from marijuana taxes and licensing fees are a key part of new governor J.B. Pritzker's budget proposal.
Illinois state Sen. Heather Steans plans to file a key language update to an adult-use placeholder bill in "by the end of April or very early May," she told Capitol News Illinois. "Very soon, when we are done with the two-week break here."
According to Steans, working groups have been meeting in Illinois to hammer out the details of different aspects of the legislation, including the amount of licenses for retail and cultivation operations, the cost of those licenses, and the amount that an individual could possess for personal use. The proposal will even include a provision allowing people to keep a limited number of plants in their own homes.
"Yes, we're still talking about five plants," she said. "There may have been drafts out there with more than that. We're talking about a five-plant-per-household maximum homegrown"
Illinois faces a mounting pile of unpaid bills and unfunded pension liabilities that have pushed lawmakers to identify alternative sources of income.
The inclusion of legal marijuana revenue in the governor's budget proposal puts it at the very forefront of the political discourse in Springfield. Illinois legalized medicinal marijuana under a pilot program in 2013, and three years later decriminalized individual possession of fewer than ten grams.
The initiative still faces some opposition from religious groups and Illinois republicans, but the largely pro-legalization democrats now control supermajorities in both the House and Senate with a sympathetic and vocally supportive Pritzker residing in the Governor's mansion.
Medical Marijuana regulators in Missouri released the amount of licenses they planned to issue in the state's initial permitting round, setting off a highly-competitive draft process for business set to conclude by year's end.
Applications for facilities will be made available forms beginning June 4, and the state's department of Health and Senior Services (DHSS) will accept completed applications from August 3-17. DHSS will then have until December 31 to review and score applications prior to licensing.
"The blind facility application scoring process will ensure that businesses selected for licenses will be those most capable of providing quality service to patients while adhering to the regulations we are implementing," said Lyndall Fraker, Director of DHSS Section for Medical Marijuana Regulation, in a press release.
Draft rules for Seed-to-Sale Tracking, Qualifying Patient/Primary Caregiver, Infused Products Manufacturers, Dispensary Facility, and Medical Marijuana Establishments Generally have been posted on the Missouri DHSS website.
"We appreciate and continue to seek the public's input on how to best implement Article XIV of the Constitution," said Dr. Randall Williams, DHSS Director.
"After careful due diligence based on broad input and other states' experiences, we are establishing the number of licenses in this first year to be consistent with what is outlined in the Constitution. Moving forward, we will continually reassess to ensure access for patients is adequate."
Colorado marijuana advocates achieved a significant milestone by passing a bill to open the state's legal marijuana industry to outside investors on Monday, a year after former gov. John Hickenlooper vetoed a similar measure. Current governor Jared Polis has voiced support for the bill, indicating he's likely to sign it into law.
The law allows publicly traded companies to hold a Colorado marijuana license, among other things. It would also repeal the cap on out-of-state owners, currently set at 15, which prohibits mergers with public companies and participation from investment funds with more than 15 investors.
Dean Heizer, executive director and chief legal strategist for LivWell Enlightened Health, a Colorado-based marijuana retail operator, feels the current law puts Colorado at a disadvantage to the many other states with legalization laws on the books.
Hickenlooper vetoed similar legislation last year, partly because of federal illegality, which triggered many state-legal cannabis businesses to threaten to leave the state. These days, however, cannabis advocates have an ally in Denver in Jared Polis, who's positioned himself as a champion of marijuana issues.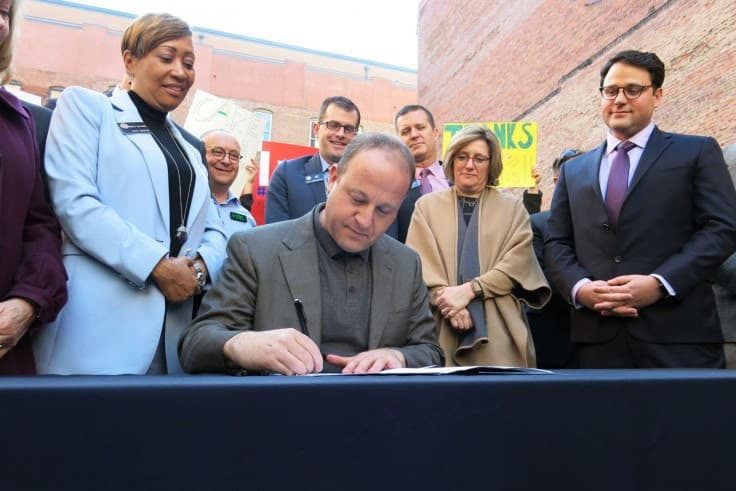 Colorado Governor Jared Polis, a champion of cannabis legislation
The Iowa Senate overwhelmingly approved a measure expanding the state's medicinal marijuana program by a margin of 40-7. The bill is heading to Gov. Kim Reynolds for signature.
Among the statues in the bill are the removal of a 3% cap on THC content in medical marijuana products and more freedom to health care professionals on which indications they may prescribe it for. It also removes some restrictions on patients with criminal records.
Although the marijuana industry is still in its infancy in Iowa (the state only has five dispensaries), the passage of this bill signals a broad trend in public sentiment towards legalization across the midwest, with Michigan already legalizing adult use of marijuana and Illinois appearing soon to follow.
Sen. Tom Greene, R-Burlington, had tears in his eyes as he expressed his support for the change. "I know many patients who need this medication," Greene said. "This is a small step, but we need to keep the ball rolling. Reclassification of this will make leaps and bounds and just really provide that care for those Iowans."
Several senators encouraged the federal government to act on the issue of marijuana legality so more can be learned about potential health and wellness applications through more open medical research.
In lieu of the 3% cap on THC content, the new legislation will allow a limit of 25 grams of every 90 days, which will remove the confusion caused by the 3% cap and improve business conditions in Iowa's fledgling marijuana industry.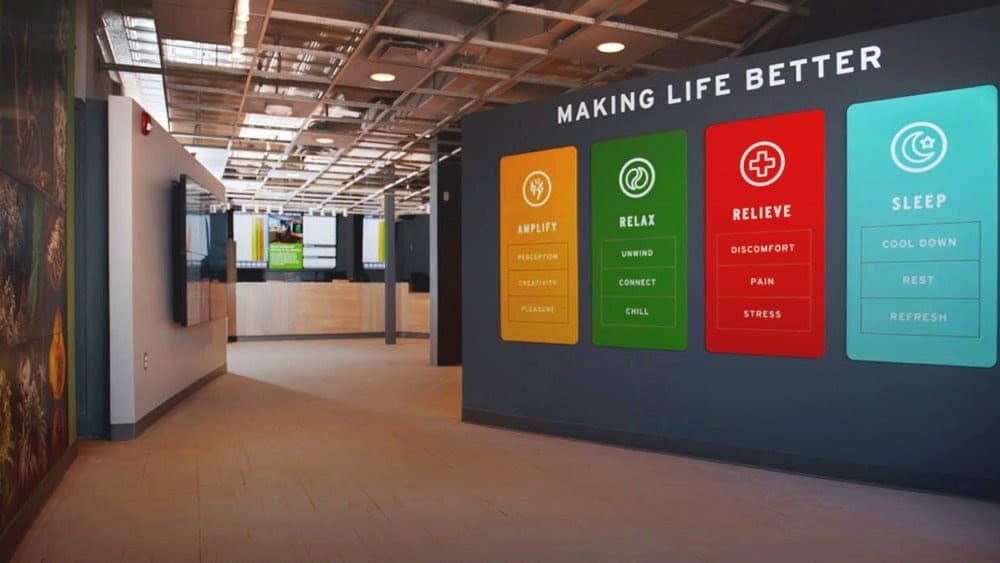 Good Chemistry (above) opens its doors on May 1 as the first recreational cannabis dispensary in Worcester, Mass.—New England's second-largest city.
Once home to factories and farms, central Massachusetts is experiencing a major economic revival, only this time it's driven by the expansion of the Bay State's legal marijuana industry.
Massachusetts leaves the regulation of cannabis to municipal government, with some communities voting to allow medical use, recreational use, or ban it altogether.
In the city of Athol, traditionally a mill town, developers have purchased a defunct drill factory with plans to turn it into a marijuana products manufacturing center for cannabis company MassGrow, LLC.
"People drive by now, and all four stories are lit up," said Town Manager Shaun A. Suhoski. "It's bringing back memories to people. It's been 35 years since it's been lit up like this."
That is but one example of derelict properties being converted to marijuana-related facilities and injecting money and jobs into downtrodden communities.
1620 Labs LLC has cultivator and product manufacturer licenses for a vacant former Agway store, Elev8 Cannabis LLC submitted an application for a retail dispensary on the site of an abandoned gas station, The Blue Jay Botanicals Inc. aims to convert an auto sales lot, described by the town manager as "a junkyard," into yet another dispensary, Selectmen approved a host community agreement last week with Greenleaf Analytics LLC for a testing lab in part of the Union Twist Drill site—the list goes on.
The vacant business lots were "not where the town wants to be," Mr. Suhoski said. "It's nice to see investments in these properties that have been long underutilized….This region was thirsting for jobs," he continued.
In Worcester, New England's second-largest city, Good Chemistry of Massachusetts will open its doors on May 1, becoming the city's first recreational dispensary. According to the Boston Globe, the company received its "commence operations" notice on April 19th.
Matthew Huron, founder and CEO, said in a statement that the company has had a "great experience with the community" as it prepared to launch adult-use sales.
"My grandparents settled in Worcester 25 years ago, and they really instilled in me the passion for agriculture and the importance of making life better for those around us," he said.
"Good Chemistry was originally founded to provide medical cannabis for those in need, and we're grateful for the chance to continue that mission, and expand it for those seeking the benefits of adult-use cannabis."
PLUS: Read the Rockefeller Institute of Government's full report on the potential economic impact of adult-use cannabis legalization in New York below.
DISCLAIMERS: This site is not intended to provide any investment, financial, legal, regulatory, accounting, tax or similar advice, and nothing on this site should be construed as a recommendation by Key Investment Partners LLC, its affiliates, or any third party, to acquire or dispose of any investment or security, or to engage in any investment strategy or transaction. An investment in any strategy involves a high degree of risk and there is always the possibility of loss, including the loss of principal. Nothing in this site may be considered as an offer or solicitation to purchase or sell securities or other services.
https://imagecdn.keyinvestmentpartners.com/wp-content/uploads/2020/10/KEY_Logo_Color_600px-web-300x152.png
0
0
Rob
https://imagecdn.keyinvestmentpartners.com/wp-content/uploads/2020/10/KEY_Logo_Color_600px-web-300x152.png
Rob
2019-05-02 16:00:00
2020-10-19 15:38:07
High Times in the Heartland: Marijuana Madness Sweeps Across Midwestern Legislatures