Clean Sweep for Marijuana on Election Night

Clean Sweep for Marijuana on Election Night
As the dust settles, it has become clear that marijuana was a big winner on election night. It was a green sweep for the five states with marijuana reform on the ballot with victories in NJ, AZ, SD, MT and MS.
"Voters in Arizona, Montana, New Jersey, and South Dakota all approved recreational marijuana legalization, and all by significant margins".
We believe New Jersey to be of important significance as we expect New York, Connecticut and Pennsylvania will likely be next.
With such a strong turnout, especially in southern states, it is our view that this should encourage the federal government to acknowledge marijuana reform across party lines and begin altering federal laws which still ban cannabis. Not only as a means to keep up with the times, but as a means to help state and federal budgets start to fill the gap from the COVID-19 pandemic.
According to Forbes and most polling, an estimated 67% of Americans support marijuana legalization. At KEY we believe we are at a true inflection point with regards to marijuana reform and with a Biden / Harris presidency, we can expect to see more legislation passed in favor of cannabis legalization.
Vote in Mexico Brings World's Largest Legal Weed Market One Step Closer
Mexico is poised to become the world's largest legal marijuana market, pending just one more vote from the lower house of congress. Senators in Mexico recently voted 82 to 18 to approve the measure.
"Socially conservative President Andres Manuel Lopez Obrador has shied away from publicly backing the legalization push, but neither has he opposed it, and senior cabinet members like Interior Minister Olga Sanchez have openly called for a shift to legalization and regulation".
Legalization would be used for social wellness programs and to help curb crime linked to cartels and drug trafficking. This would mark a major shift in Mexico where cartel violence has claimed the lives of over 100,000 people.
Sales to adults would be allowed in authorized businesses as long as the product abides by a maximum level of psychoactive component. Stay tuned as lawmakers are rushing to secure final approval before the end of this congressional session in December.

New US Senate Panel Chair Could Boost Prospects for Cannabis Banking Reform
Cannabis banking reform has been and remains one of the largest hurdles the industry faces. A new chair of the U.S. Senate Banking Committee could be the key to getting the much-needed legislation passed. The reform would pave the way for cannabis related businesses to gain access to traditional financial services like any other industry.
"To that end, marijuana industry officials are heartened that the likely incoming chair of the Senate banking committee, Pennsylvania Republican Pat Toomey, is open to legislation that would allow financial institutions to serve MJ businesses without fear of federal reprisal."
Toomey appears to be more sympathetic to cannabis related businesses in need of traditional banking, stating that as long as they are operating legally, he believes they should access ordinary banking services as well.
While the easiest path towards reform would be a democratic win in the senate, there are also other ways. The COVID-19 relief bill could also be key to settling the banking issue which is widely expected to be settled this year as a part of the next coronavirus relief package. The latest House measure contained the SAFE Banking Act as part of the package. However, Mitch McConnell snubbed a previous version of the bill for mentioning the word "cannabis" 68 times.
Time will tell when banking reform will finally come, but one thing is quite certain, it is a topic that is gaining traction and is certainly making its way to the top of many high-level discussions. At KEY we believe it is simply a matter of time at this point.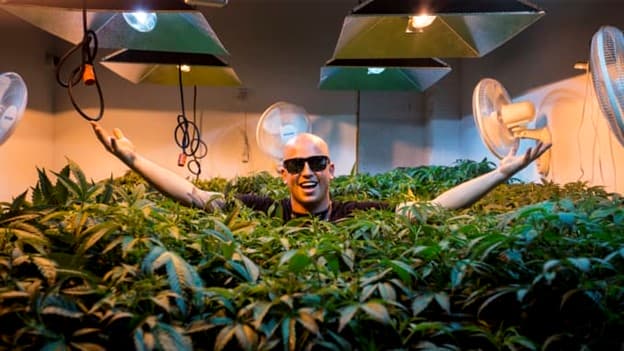 From Treating His Epilepsy With Weed as a Teen, This 32-year-old is Now a Multimillionaire Cannabis Entrepreneur
As noted in our last blog post, "A Brief Introduction: The Endocannabinoid System," the cannabis plant is one that goes far beyond just recreational use and no one knows that more than cannabis entrepreneur Joshua Haupt.
At the age of 14 Joshua was diagnosed with epilepsy, a diagnosis which eventually led him down a path to become an entrepreneur in the cannabis industry. In Colorado and his late teens and early 20s, he began growing cannabis as a means to help prevent his epileptic seizures.
"Haupt became determined to find an alternative remedy for his seizures after his epilepsy medication caused him side effects, including hair loss and weight gain, which took a toll on his confidence".
Haupt is now seizure free after replacing his epilepsy medication with CBD and the first approved FDA cannabis derived drug Epidiolex.
He quickly discovered he had a knack for gardening and cultivating cannabis which eventually led to his foray into the cannabis industry as an entrepreneur. "Haupt, who lives in Denver, made his fortune after selling a cannabis guidebook company, Pono Publications, and marijuana nutrient line, Success Nutrients." He sold both companies to Medicine Man Technologies, where he is now the chief revenue officer.
Even just 10 years ago what Josh was trying to accomplish seemed taboo. Fast forward and today we are seeing the positive effects from cannabis derived medicines across the spectrum. A big thank you to pioneers like Josh for carving a path to future research and positive results.
DISCLAIMERS: This site is not intended to provide any investment, financial, legal, regulatory, accounting, tax or similar advice, and nothing on this site should be construed as a recommendation by Key Investment Partners LLC, its affiliates, or any third party, to acquire or dispose of any investment or security, or to engage in any investment strategy or transaction. An investment in any strategy involves a high degree of risk and there is always the possibility of loss, including the loss of principal. Nothing in this site may be considered as an offer or solicitation to purchase or sell securities or other services.
https://imagecdn.keyinvestmentpartners.com/wp-content/uploads/2020/11/Congress.jpg?strip=all&lossy=1&quality=75&ssl=1
858
1430
Tiby Erdely
https://imagecdn.keyinvestmentpartners.com/wp-content/uploads/2020/10/KEY_Logo_Color_600px-web-300x152.png
Tiby Erdely
2020-11-26 06:30:57
2020-11-26 08:30:23
Clean Sweep for Marijuana on Election Night