State, Federal Lawmakers Push Cannabis Banking Reform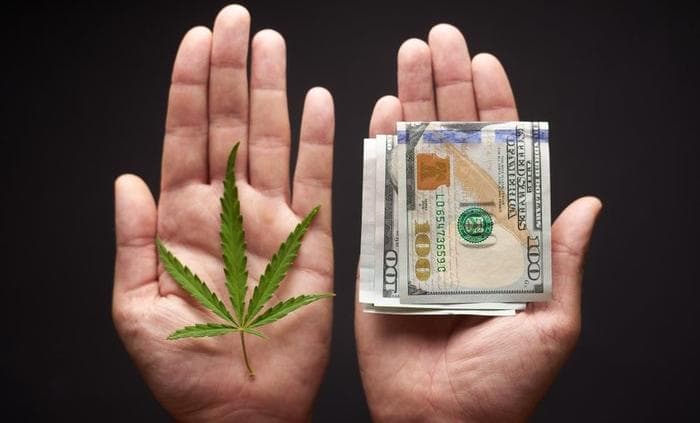 A House measure sponsored by Representative Ed Perlmutter (D-CO) makes its way through various panels and committees this month, seeking increased protection for banks that service cannabis companies in states where its use is legal. According to the Wall Street Journal, the measure has seen increasing support from mainstream companies, with Scotts Miracle-Gro (NYSE: SMG) and Constellation Brands (NYSE: STZ) the latest to expand lobbying efforts.
"…As more jurisdictions have legalized marijuana…more cannabis firms have been backed by seasoned professionals who run industrial-size operations."
In fact, one of the largest multi-state cannabis operators, Acreage holdings, chose to bring former Speaker of the House John Boehner (R-OH) onto its board and spearhead their lobbying efforts. This is notable not only for Boehner's clout in Washington, but also for his stance as a formerly staunch anti-legalization politician.
Furthermore, beer-and-wine provider Constellation Brands has hired Heather Podesta, one of the highest-powered lobbyists in Washington, to help advocate for legal changes on their end.
According to lobbying disclosures obtained by the Wall Street Journal, Constellation Brands hired renowned lobbying firm The Podesta Group to the tune of $60,000 per quarter to advocate in favor of cannabis reform legalization.
Currently, marijuana business operate under a legal cloud, theoretically posing a risk to the federal charter or deposit insurance of any banks who agree to do business with them. This results in cannabis companies often having to ferry and ship large amounts of cash to and from their delivery destinations, posing a public safety risk, according to advocates on Capitol Hill.
Banks say they hope the House bill will trim operational risks, particularly for those banks that lend to businesses with ancillary exposure to cannabis, while reducing the amount of unbanked cash.
A growing chorus of state governors are realizing the potential benefits cannabis legalization could bring to their states and advancing the debate accordingly.
First-year Illinois Governor J.B. Pritzker (D) joined incumbents Ralph Northam (D) and Andrew Cuomo (D) in making cannabis legalization a centerpiece of their 2019 platform, while new Colorado Governor Jared Polis (D) touted the realized benefits of the legal industry in his State of the State address.
Voter sentiment is so positive in Illinois, in fact, that Gov. Pritzker pledged to end prohibition in his inaugural address:
"In the interests of keeping the public safe from harm, expanding true justice in our criminal justice system, and advancing economic inclusion, I will work with the legislature to legalize, tax and regulate the sale of recreational cannabis in Illinois," —Ill. Gov. J.B. Pritzker
No doubt the governor felt compelled by a recent analysis from the Illinois Economic Policy Institute and the Project for Middle Class Renewal at the University of Illinois, which found that fully legalizing cannabis would bring 24,000 jobs to the state, along with $500 million in tax revenue and about $1 billion in overall economic growth by 2020.
"Assuming similar usage and taxation rates as Colorado, we'd expect marijuana legalization to have more than twice the financial impact in Illinois because of our state's comparatively larger size," Frank Manzo IV, the study's co-author, said in a press release.
"At a practical level, this means tens of thousands of new jobs and hundreds of millions of dollars in new tax revenues that can be invested in vital infrastructure, education, and public safety programs that have been most impacted by recent budget pressures in Springfield."
Illinois State Treasurer Michael Frerichs is pushing a new proposal that would prevent the state from punishing banks for doing business with cannabis companies.
"The inability of a legal cannabis industry in Illinois to use a bank or credit union for basic services like check writing, savings, or access to capital is a sleeping giant…Banking rules written decades ago have not kept up with changes in behavior and in law."—Ill. State Treasurer Michael Frerichs
The proposal is designed to give banks more confidence and security in their business dealings as the cannabis industry grows. Frerichs is also a member of a bipartisan group from the Association of State Treasurers that is seeking the same banking protections at the federal level.
"Because [cannabis legalization] is happening state by state by state, [banking reform] is the one thing that we think will make the federal government move." —State Sen. Toi Hutchinson (D-IL, Olympia Fields)
Illinois is an especially intriguing case for the politics of legalization insofar as it represents a state with precisely the type of chronic fiscal issues that create the political will to explore alternative sources of revenue, e.g. cannabis taxes. Furthermore, if the crime-infested, debt-ridden city of Chicago could benefit from legalization of cannabis, it would represent a major milestone and inflection point in the legalization effort at the federal level.
It only took eight months in 2018 for Colorado cannabis sales to exceed a billion dollars, according to a report from the Colorado Department of Revenue's Marijuana Enforcement Division. The report also found that while sales of cannabis flower remained relatively steady, sales of edible products and concentrates rose rapidly.
Between January and June, edible product sales grew 13.8 per cent, while sales of concentrates products skyrocketed over 94.6 per cent during that same period.
The sales numbers came as no surprise to Nancy Whiteman, founder of the state's leading edibles and infused products provider Wana Brands.
Those new people she mentions? More older people and more women who, according to Whiteman, are drawn in by more diversified product offerings such as non-psychoactive CBD products used for relaxation and pain management.
The data suggest that consumer demographics initially reluctant to try cannabis are warming up to its benefits, signaling that a paradigm shift in public opinion on marijuana usage is in full effect in Colorado.
DISCLAIMERS: This site is not intended to provide any investment, financial, legal, regulatory, accounting, tax or similar advice, and nothing on this site should be construed as a recommendation by Key Investment Partners LLC, its affiliates, or any third party, to acquire or dispose of any investment or security, or to engage in any investment strategy or transaction. An investment in any strategy involves a high degree of risk and there is always the possibility of loss, including the loss of principal. Nothing in this site may be considered as an offer or solicitation to purchase or sell securities or other services.
https://imagecdn.keyinvestmentpartners.com/wp-content/uploads/2019/04/weed-money-700px.jpg?strip=all&lossy=1&quality=75&ssl=1
467
700
Rob
https://imagecdn.keyinvestmentpartners.com/wp-content/uploads/2020/10/KEY_Logo_Color_600px-web-300x152.png
Rob
2019-04-02 16:00:00
2020-10-15 21:40:47
State, Federal Lawmakers Push Cannabis Banking Reform