Schumer, AG's Agree on Cannabis Reform: "It's Time"
Marijuana Lobbying Expenditures by Year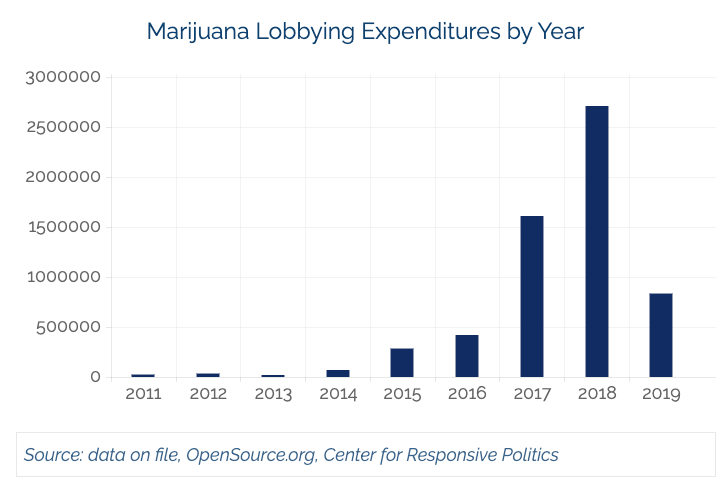 The SAFE Banking Act garnered more impressive support last Wednesday, counting no less than thirty-eight of the nation's foremost judicial officials as its latest proponents. In a joint letter addressed to congressional leadership and appearing on National Association of Attorneys General letterhead, the group urged Congress "to advance legislation that would allow states and territories that have legalized certain use of marijuana to bring that commerce into the banking system."
The letter begins by imploring congress to acknowledge the reality of the burgeoning state-legal cannabis industry, noting the staggering figures today even as the true legality of cannabis at remains a grey area:
"This is simple," said California Attorney General Xavier Becerra in a statement. "Not allowing an $8.3 billion industry into our banking system is hurting our public safety and economy. Becerra is one of the letter's signatories.
The letter goes on to echo what's becoming a theme in pro-banking reform camps: highlighting the benefits of common-sense reforms, even for those lawmakers whose constituencies may not support cannabis legalization generally.
"Regardless of how individual policymakers feel about states permitting the use of medical or recreational marijuana, the reality of the situation requires federal rules that permit a sensible banking regime for legal businesses."
The move has drawn both attention and support from the banking industry.
As president and CEO of the Colorado Bankers Association Don Childears told American Banker, the best chance to gain support for the bill in the GOP-controlled senate is to frame this as an issue of law enforcement, order and safety:
"We've had people killed in robberies of marijuana shops here in Colorado. I can't say that wouldn't happen if you had banking services, but at least you wouldn't have the temptation of large amounts of cash."
(The states represented in the letter? Colorado, Nevada, North Dakota, D.C., Alaska, Arizona, Arkansas, California, Connecticut, Guam, Hawaii, Illinois, Iowa, Kentucky, Maine, Maryland, Massachusetts, Michigan, Minnesota, Mississippi, New Jersey, New Mexico, New York, Northern Mariana Islands, Ohio, Oklahoma, Oregon, Pennsylvania, Puerto Rico, Rhode Island, Utah, Vermont, U.S. Virgin Islands, Virginia, Washington, West Virginia, Wisconsin)
Senate Minority Leader Chuck Schumer joined New York Rep. Hakeem Jeffries earlier this month in announcing the reintroduction of the Marijuana Freedom and Opportunity Act into both houses of Congress. Schumer originally introduced a version of the bill last year on April 20th, but was unable to push it through the GOP-majority congress.
The Marijuana Freedom and Opportunity Act would remove cannabis from the list of federally-designated controlled substances, amounting to what most Americans consider "true" legalization.
Of course, this would allow states to determine their own policy on the issue, so it is possible that some states may hold out and continue to prohibit its use and sale.
Here's @RepJeffries and me,

In Brooklyn,

On Reintroducing the Marijuana Freedom and Opportunity Act,

Which will decriminalize marijuana at the federal level. pic.twitter.com/nZECX0aTLA

— Chuck Schumer (@SenSchumer) May 9, 2019
Even despite that possibility, this bill could trigger a transformation of the cannabis industry. Most significant, perhaps, is that federally-chartered financial institutions would no longer fear reprisal from the federal government for conducting business in cannabis.
Schumer took to his sizable twitter following to announce the action, posting a video of himself and Jeffries discussing the issue.
"It's about time we decriminalize marijuana. We've seen with medical use, the states are working. Some of the states have already legalized, and it's working well there. So what we're saying is very simple: let each state do what it wants." Schumer said. "There's no longer going to be the heavy hand of the federal government telling you you can't."
Jeffries echoed Schumer's sentiment and went on to discuss a key provision in the bill that his office authored: "Well, Senator, you always wanted to make clear that there's a balance between reform that promotes the interest of social, economic, and racial justice, but also that it's done in a way that protects public safety…This bill will provide dedicated funding to study the health impacts of marijuana consumption, and also to figure out ways we can make sure our roads and our travel remain safe to the extent that there are people who utilize marijuana and might be impaired."
The bill would also use with the Small Business Administration to set up funding for women and minority-owned cannabis companies, arguing that these communities have been hit hardest by draconian marijuana policy of decades past.
Schumer concluded, "We're concerned about freedom. We're concerned about justice. We're also concerned about safety, and the bill takes good measures in that regard too."
Missouri's newly legal medical marijuana industry has yet to launch, but that has not stopped Triad Bank of suburban St. Louis from offering deposit services to cannabis businesses, despite the ever-present regulatory risk from the federal government.
The bank's CEO Jim Regna told MJBizDaily that they plan to pick and choose their cannabis customers carefully, giving special consideration to entrepreneurs who've had success in other industries.
The move comes against a backdrop of growing support for cannabis banking reform across the country, at both the state and federal level. The newly legal medical industry could also be construed as a sign of changing public opinions in the normally red, sometimes purple state of Missouri.
Last month, Missouri state regulators announced they planned to issue 60 cultivation licenses and over 190 dispensaries to support the emerging MMJ industry.
The significance of Triad's offering extends beyond the local industry it will service. It is bucking the trend of reluctance that we've seen from financial institutions to dive in to a legally ambiguous industry.
The Windy City and unofficial capital of America's heartland has become an unlikely home to some of the largest companies licensed to grow, distribute, and sell cannabis in the U.S.
Characteristics that have historically made Chicago appealing as a hub for interstate commerce (most notably its central location between the coasts and robust commercial infrastructure) are proving just as appealing to cannabis companies as they have to traditional industry.
Many of the so-called "multi-state operators" (MSOs) emerging as the early industry heavyweights call Chicago home. According to Crain's Chicago Business, "Green Thumb Industries and Cresco Labs have gone public and are among the buyers. PharmaCann and Verano are selling out to other public companies, while privately held Grassroots Cannabis and Revolution Enterprises are scouting for acquisitions."
As the tidal wave of support for legalization looms large, Chicago-based cannabis companies are bulking up and positioning themselves to carve out defensible niches in the cannabis economy.
Mitch Kahn, CEO of Grassroots, which raised $90 million in March and claims to be the country's largest MSO with licenses in 11 states, seems to agree: "We're focused on gaining scale…looking to buy scale in important states we aren't in."
Like many of his counterparts, Kahn sees a future where the industry is controlled by fewer, larger, more integrated companies.
"There will be three or four ultimate surviving big companies," Kahn says. "There are some medium-size players left. If you're in two or three states today, it's hard to think you can get big enough fast enough to stay in the game."
Pending legislation in the U.S. Congress could shake things up significantly. The passage of the STATES act is widely seen as a mechanism to allow large institutional investors to get involved, increasing the flow of capital to U.S. cannabis companies.
Just last month, Canada's largest operator, Canopy Growth, paid $300 million for the rights to acquire N.Y.-based Acreage Holdings, in essence making a big bet that legalization is just around the corner for American markets. It's also a sign that the cannabis industry is entering the second phase of consolidation, when public companies begin acquiring other public companies.
So will the trend continue, and if so, how will it shape Chicago's business landscape? The answer is "yes" and "who knows" according to John Downs industry expert and CEO of California-based cannabis research firm Arcview Group:
"I don't think anyone planned or thought Chicago would be the center of multiple (large operators)," says Downs. "Will that continue to be the case? I don't know. Consolidation will continue."
PLUS: Read why this CEO expects federal legalization within 18 months
DISCLAIMERS: This site is not intended to provide any investment, financial, legal, regulatory, accounting, tax or similar advice, and nothing on this site should be construed as a recommendation by Key Investment Partners LLC, its affiliates, or any third party, to acquire or dispose of any investment or security, or to engage in any investment strategy or transaction. An investment in any strategy involves a high degree of risk and there is always the possibility of loss, including the loss of principal. Nothing in this site may be considered as an offer or solicitation to purchase or sell securities or other services.
https://imagecdn.keyinvestmentpartners.com/wp-content/uploads/2020/10/KEY_Logo_Color_600px-web-300x152.png
0
0
Rob
https://imagecdn.keyinvestmentpartners.com/wp-content/uploads/2020/10/KEY_Logo_Color_600px-web-300x152.png
Rob
2019-05-16 18:50:34
2020-10-19 15:49:40
Schumer, AG's Agree on Cannabis Reform: "It's Time"